When it comes to choosing and shopping for large sized ladies clothing, it can be very challenging if not almost impossible. Ten years ago there were fewer designers who worked on collections for a Womans fuller figure; fortunately today the situation is very different.
Today, the number of designers that design and make plus sized clothing that is modern is increasing, and the most important thing is that the ladies feel comfortable and sexy. We're bringing you tips on how to successfully shop and at the same time be trendy.
We start with the most problematic piece of clothing – the swimwear.
Tip Number 1. Swimwear
Buying swimwear is not a very enjoyable activity for any woman, not to mention for plus sized ladies because it is difficult to find a suitable model. Every plus sized woman is craving for two-piece bathing suits, small bikinis, etc. But the reflection in the mirror only creates trauma when they realize that their stomach is no longer as flat and legs as thin as they once were.
But fortunately, there are many models of one piece swimwear in which women will feel nice and comfortable, hiding flaws and highlighting the benefits.
If you have fuller hips and thighs – Avoid:
Thigh-high cut (it immediately draws attention to the problem areas)
Horizontal lines (lines will be wider on your thighs making them look even wider)
Try:
Cute one-piece bathing suits with short, flowing skirts (they hide the bad areas and create the illusion of proportions)
One-piece swimsuit that has appropriate thigh cut
If you have a bigger bust – Avoid:
Low-cut necklines (increases the breast)
Loose cups (covers, but increases the appearance)
A bikini top or the top half of the swimsuit that ties up (it carves the neck and shoulders)
Thin strips (provide little support, and can carve into your shoulders)
Try:
Cups with wire (provides excellent support and creates proportion when compared to hips)
Thick ribbons, laces (they are fixed on the shoulders and are not carving into parts of the body)
Closed and narrow part on the back (provide support along the entire body)
Square neck cut (breasts look fuller, not longer)
Double cups
If you have flabby tummy – Avoid:
Horizontal lines (create curves)
Square neck cut (highlights the middle area of the body)
Try:
V-neck (makes the hips look fuller)
Bright patterns (mask the shape)
Bright fabrics (emphasize the lower part of the body)
A large cut on the back (defines the hips)
If you are endowed all over – Avoid:
Boring patterns (draws attention to the body)
Full colors (emphasize the wrinkles)
Fluorescent colors (create the illusion of glass on the stomach and hips)
Remember, a quality swimsuit is always a smart investment and a wise decision. A classical swimsuit is functional and you will always feel comfortable and ready to go to the beach.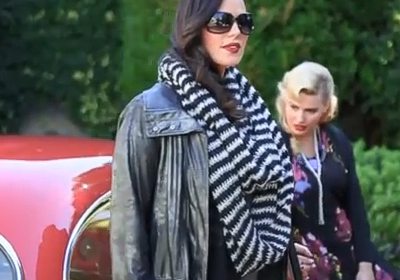 Tip Number 2. Wear red
Black can sometimes be boring, that's why Hollywood stars often opt for a red dress on important events and premieres, and for several reasons. Specifically, if you trust chromotherapy, which studies the effects of certain colors on the body, red symbolizes slenderness.
For all those who want to return the vitality, and look slimmer, it is recommended that you wear red. Besides red, stylists recommend plus sized women to wear blue, purple and shades of beige, mint, because they will hide all the flaws and create the illusion of a slimmer body. The color you should definitely avoid is white because it visually expands.
Tip Number 3. Work those jeans!
It is best to choose jeans that are slightly wider at the feet. Thus creating a visual line and draws the attention away from the larger hips. Be sure to avoid tight jeans, low-waist jeans, bell bottom or flared jeans and carrot fit jeans.
If you have an hourglass type of the body, big hips will look best in jeans with medium high waist and straight cut leggings. For fuller women the best choices are dark jeans with medium high waist, also straight tailored leggings, and – better of choosing a larger size then a smaller. Definitely avoid "puffy" pockets or unusually cut pockets.
This rule is especially important for women who have a bigger bottom and do not want to emphasize it even more.
Tip Number 4. The perfect dress
Narrow or wide, short or long, with sleeves or without? There are numerous questions when choosing suitable dresses for curvaceous women. The wrong style, color or design can easily add a few pounds.
Singers Adele and Jennifer Lopez, actresses Christina Hendricks and America Ferrera and reality star Kim Kardashian are just some of the famous stars who are proud of their curves.
And know how to "pack" them perfectly! Their dresses skillfully cover flaws, highlight their feminine curves and give an hourglass shape in a feminine and elegant way.
If you have a bigger bottom, retro dresses are perfect for you, and they also happen to be in vogue this season. Volume on the lower part of the dress should fall perfectly over the hips to the knees.
But if you have a larger bust, choose wrap dresses – they are ideal for your physique simply because you can regulate the depth of the neckline and at the same time emphasize the waist. Length of the dress should always cover flaws and make your figure look slimmer.
Due to thicker arms many women give up on wearing dresses and hide behind large blouses and T-shirts. Like singer Adele, choose dresses with ¾ sleeves that will cover those flaws.
If you are not bold enough to wear a dress that follows the body opt for dresses and tunics that are tailored to fall nicely, that accompany the elegant lines of the body and gently fall over the hips. Perfectly combined with a jacket, cardigan and a thin belt the body will give waist.
Tip Number 5. Lingerie
Choosing the right lingerie is the most important thing when you're plus sized as wearing the wrong lingerie size can ruin the perfect combination at a snap of fingers. Make sure everything is in its place and that it doesn't cut into your skin.
Do not give up on fashion, style it, wear it and show off those curves! Throw on the most fashionable accessory – a smile, and sail into the fashion adventure with confidence.