Maternity dresses are readily available in South Africa if you are expecting a baby. Or looking to buy a gift for someone with a baby on the way. A maternity dress or any other item of maternity clothing is a must. Pregnant women want to be comfortable in whatever they are wearing. Especially as the pregnancy progresses.
Shops to buy maternity dresses in South Africa
Foschini
Ackermans
H&M Maternity wear
Mr Price
Pick n Pay Clothing
Wearing normal clothing is not an option as most pregnant women's clothing will not fit them anymore. Therefore clothes may be uncomfortable and make it hard to move.
Because pregnant women are generally so uncomfortable when their time is coming closer, comfortable maternity clothing is best.
What do pregnant women face as their time comes closer?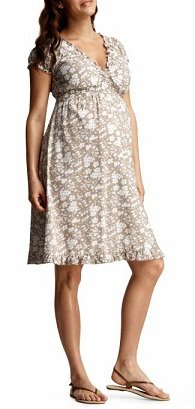 As a woman's pregnancy progresses, her body begins changing very quickly.
From early on in pregnancy changes in appetite, cravings and morning sickness make life pretty difficult for some women.
As the baby grows and becomes heavier, the Mom to be will get back pain as her child grows heavier.
Stomach pain as her belly stretches and the baby begins kicking.
Hip pain as her bones begin to move to make way for the baby to be born. As well as sensitive skin and swollen ankles and fingers.
Normal clothing is uncomfortable and tight on pregnant women. Because of their sensitive skin, swollen body, pain and lower pain threshold, comfortable cool elastic loose clothes are best for comfort. During the final stages of pregnancy.
If a women has a difficult pregnancy, proper maternity clothing is even more important.
Why maternity dresses and not other maternity clothes?
All maternity clothing is made of comfortable, non-irritating material. That helps to soothe the skin rather than cause irritation and rashes.
Most maternity clothes are loose and soft to ensure that the mother to be is comfortable at all times.
Because the expecting woman will keep growing in size almost up to her due date, it is important that maternity wear is elastic. Also stretchy so you can wear it all the way through your pregnancy.
If you are looking to buy maternity wear that will allow for your increasing size, it is a good idea to go for a maternity dress.
Dresses usually fit a wider range of sizes than tops and pants and are a great idea for moms to be. The best part is, you could probably wear the dress after your pregnancy as well.
Many pregnant women experience overheating and heat sensitivity and a cool, light dress is the best choice to keep cool, fresh and calm.
Another reason that a maternity dress is better than most other items is that pregnant women often need to urinate a lot more often than normal.
Wearing a dress makes getting onto the loo a lot easier. Especially if the pregnant women is finding it difficult to move quickly. With the added weight of a growing baby.
Where can you find maternity dresses in South Africa?
Most large retailers sell maternity clothing. Well-known, affordable franchise stores like Mr Price and Foschini have ranges of maternity wear at times.
If you cannot find a normal franchise store you could look for a specialty maternity store. Often, stores that sell baby products and children's toys will have a range of maternity products on offer.
Some clothing stores like Pick n Pay clothing may have items that would qualify as maternity clothing. Dresses are especially easy to use as maternity clothing as well normal clothing.
These maternity dresses at Mr Price may be of interest to you.
What to keep in mind when looking for a maternity dress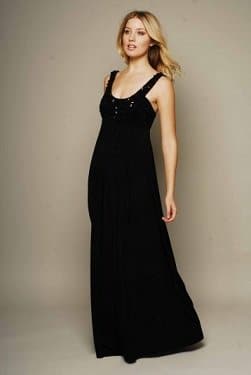 It is always important to consider that the maternity dress you buy is stretchy and has room for your growth.
If you buy the dress near the beginning of your pregnancy you will want to be able to wear it all the way through your pregnancy.
Clothing is often expensive and making sure that your maternity wear will last you through your entire pregnancy will save you money.
Make sure that you buy a maternity dress made out of soft, comfortable, non-irritating material.
It is also a good idea to buy a darker colour material as it will not show up stains. Because you may want to keep wearing your maternity clothing after the birth of your child.