There is nothing worse than heading to your store room only to find you do not have the right gear for your next outdoor experience, or that your child has no gear for their latest school trip. Luckily for you, Outdoor Warehouse equipment is all you need to consider to get what you need to make those outdoor experience blues disappear and make you the coolest parent by sending your child off to camp with the very best gear.
So you have decided that you and your mates are going to head off on a camping trip for a few days and you need gear and realize that you have very little that will help you survive the outdoors. You scrounge around at home to see what you can find, and all you have is a knife and fork to go with your porcelain plate and bowl. Definitely not an ideal start but this can be easily remedied because Outdoor Warehouse can provide you with the latest items situated in any of the following main categories:
Cooking
Catering for the South African man or family, from braais to gas cooking to eating utensils;
Equipment
From sleeping bags that go to sub-zero temperatures to knives and even caravan accessories;
Furniture
Camping chairs to relax after a tough day's fishing to mattresses and camping beds;
Gadgets and Accessories
Perhaps you are more serious and would need 2-way radios or weather systems;
Gazebos and Lapas
Required especially when going into very hot and sunny areas and needing that shade to escape the heat;
Health
First aid kits, mosquito repellents, general hygiene and even personal care;
Lighting
From torches to headlamps to setting up lighting for your entire camp;
Mobile Refrigeration
Keeping that beer cold was never easy with a range of mini-fridges, cooler boxes and even thermo-electric coolers;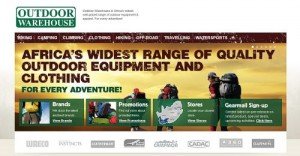 In fact you cannot really go wrong with Outdoor Warehouse equipment. And if you are an outdoor junkie and really want to have the latest and very best of everything, then this is a one-stop shop for you.
Outdoor Warehouse have structured their store to cater for all outdoor and adventure activities, including the following key outdoor areas:
Biking
Climbing
Camping
Clothing
Hiking
Off-road
Travelling
Watersports
Here, you will have access to the very latest outdoor trends and styling as well as the very best brands. Consider the following top class brands that you will be able to find:
Clothing: Including First Ascent, Falke, Hi-Tec, FreeSport and many more;
Equipment: Including Karrimor, Cadac, Jarvis Walker and Leisure Quip to name but a few;
Accessories: Garmin, Thule, Leatherman, Buff and a whole host more;
In addition to this, Outdoor Warehouse offers gift cards. So if you are looking for that perfect gift and have no clue where to start, then this is a really safe and easy option for any special occasion.
If that all boggles your mind then we would suggest you get down and check out Outdoor Warehouse equipment as soon as you can. You will be surprised by their incredible range and be able to kit yourself out to brave anything the outdoors throws at you.