Lewis furniture stores catalogue is the ideal place to look for specials on lounge suites and bedroom furniture and accessories. Lewis is a well established brand in South Africa. As a result, is a brand that people trust to make good quality and affordable furniture.
Related: Joshua Doore Specials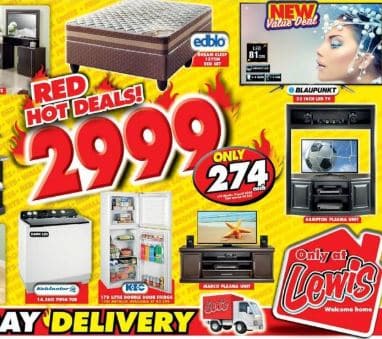 There are a number of branches nationwide for you to go and look through. To find your perfect dining room or living room set to make your house a home. This company even has bedroom layouts which you can view and help you imagine how the furniture would fit in to your home.
For those of you who cannot access the physical store, then the Lewis Furniture stores catalogue is a great way to find furniture on offer. As well as take note of the great specials which Lewis runs.
Items in the Lewis Furniture Stores Catalogue
There are a large number of living room displays. As well as lounge suites which can all be found in the catalogue. Along with dining room and bedroom displays.
Lewis also offers a large number of home appliances to compliment your new furniture and your new space. So why not enjoy your television whilst relaxing on your new lounge suite.
One of the reasons why Lewis has become such a popular brand in South Africa is because of the fact that they give back to the community. By running corporate social initiative projects which install trust in the brand.
This means that South African's all over the country know that they are not only purchasing something for themselves. But by visiting the branches and buying a living room set, they are contributing to their communities as well.
So when thinking about your new lounge suite, you can have peace of mind that you are giving back to your communities as well.
Have a browse through the Lewis furniture stores catalogue. Compare prices of items to the other furniture shops in South Africa. You'll find out that prices are highly competitive. Therefore you can shop at Lewis shops to buy the products you need to furnish your house.