Shoes occupy a privileged position on the shoppers' treat list, so some shoe shopping tips can help those who just can't get enough! For many women (and even men!), shoes are not just something that you wear to protect your feet – they are items of longing and fetish, and a weakness when it comes to spending money. Whether it's sky-high heels, comfy loafers, snazzy sneakers, training shoes, boots or slippers you are after, use these show shopping tips to help you buy wisely.
Stylish and sensible
For many women, it can be tempting to forgo the comfort ("beauty is pain!") and indulge in a pair of killer (literally) heels that look so darn good, but hurt so darn much! Yes, they may be showstoppers, but you aren't going to be stopping any shows if you can't even walk. To some, "stylish and sensible" may seem like an oxymoron – you may think that any shoes that are vaguely comfortable would only match a floral petticoat or potato sack. But, take our word for it, there are shoes out there that are both stylish and sensible that won't leave you with deformed feet and a heel bulging with blisters (now, that's not so sexy, is it?).
The good news is that there is such a range of shoe designs available, and if you look long and hard enough you will find a design that is both comfortable and classy. If you need shoes for a special occasion, give yourself plenty of time beforehand to look for them so you don't have to compromise on comfort. With time on your hands, you can be sure to make the right choices for your feet as you can try many different pairs from a number of different shops.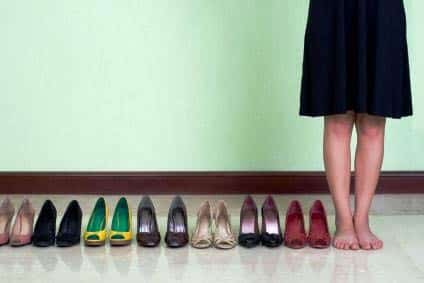 Stick to the specialists
If you are looking for expert service and advice, it's best to go to a store that only sells shoes. Use the internet or the yellow pages to find these specialist stores in your area. If possible, look for a store that has an old-fashioned service where you sit and the salesperson will measure your feet and advise you on your shoe size and shoe fitting. Don't forget the width! This can be especially important when buying running shoes or shoes that will be working hard for you. When it comes to choosing running shoes, the shop assistant should look at your stride and pronation to help you find the right running shoes for your feet and your running style. When it comes to size, don't choose shoes that you can't wiggle your toes in.
To heel or not to heel
Flat shoes are not always better than heels. In fact, if the shoe has soles that are completely flat, this can cause the feet to roll inwards when you walk. Rather, look for flat shoes that have built-in arch support or a contoured footbed to keep your feet stable and support your ankles. A strap across the middle of the foot can also help keep the foot and the shoe in place. If the shoes are for everyday walking around, try to stick to a heel between a half inch to an inch.
A heel of 2 inches or more is classified as a "high heel".  One of the most important of the shoe shopping tips is to save high heeled shoes for special occasions, rather than everyday use. The higher the heel, the greater the pressure on the forefoot. Aside from pain while wearing the shoes, this can also cause a pinched nerve, corns, a callus, a bunion or a hammertoe. In three words: not worth it!
If the shoe fits…
When you go shoe shopping, bring along the pantihose or socks that you are likely to wear with those shoes. This will help you to assess the shoe comfort and sizing. If you have an in-steps or other orthotics, be sure to bring them along so that you can see how they will fit in the shoe.
When in doubt, bring along a friend to help you choose the right shoes so that you can be strutting off in style in no time!