The Truworths fashion clothing catalogue. It's the perfect place to look for any summer wear or winter wear clothing. Aside from the casual clothes available, they offer a wide selection of evening dresses, formal skirts and cocktail dresses. This means that no matter the occasion, Truworths has something for everyone to wear.
In addition to have a wide variety of clothing on offer… The store has great quality clothing and often has specials deals available at their half price sales.
This means that there's nothing stopping you from visiting a branch today for the outfit you want.
For those who cannot visit a physical store. You will find a Truworths fashion catalogue in one of many publications weekly.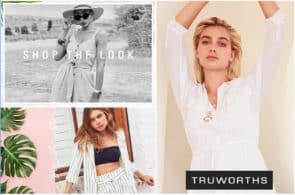 Therefore you can find that perfect cocktail dress or evening dress for that formal event from the comfort of your own home.
Read More: South African Clothing Chainstores
No matter what the season, you can find that perfect outfit. The winter wear offers coats and jackets to keep you warm during the cold winter months. And in summer, the summer wear offers great summer dresses and formal skirts so that you do not overheat on a hot summers day.
To top all of this off, Truworths always has great deals and specials and not only for those with accounts. The general public can benefit from discounted prices and beauty product specials.
Truworths Fashion Clothing – Conclusion
What is more is that if you cannot actually visit a store. Or get your hands on a clothing brochure in one of the many publications that it is placed in to… You can visit www.truworths.co.za and take a look at their summer wear and winter wear online.
Above all, Truworths are a well known South African clothing brand. There are clothes for sale for men, women and children. Therefore you can kit the whole family out in both summer and winter wear.
Now and then you will find specials on Truworths clothes. But in general the prices of the clothing are already reasonable. Pop into your local branch or check out the clothes available in the Truworths catalogue online.