The South African online shopping company Zando offers international and local brand boots and shoes at affordable prices. They offer convenient shopping on the web from a site that's easy to navigate. And a customer service that will help make your purchase/s a breeze!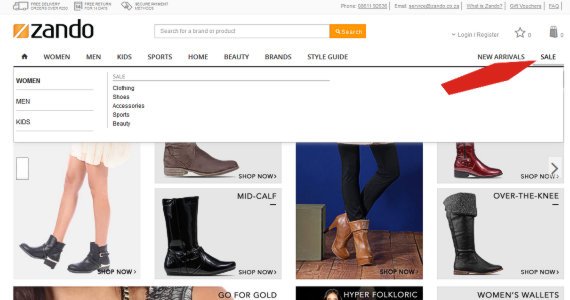 Most of us have feet! And whether it's to protect us from the cold, move around in comfort, play some kind of sport, for work reasons or formal wear. Or all of the above we need to wear something on our feet almost every day.
Shopper's are guaranteed peace of mind. As they purchase footwear easily using the website knowing that payments are safe and secure.
Payments can be made via EFT (Electronic Funds Payment), Credit Card or Debit Card securely online. And customers receive a tracking number which helps to know the progress of an order until it gets delivered.
There are a few delivery options at different costs depending on how fast a customer would like to receive their order. But if a shopper is happy to wait the standard 3-5 working days for items purchased to be delivered, then any order above R400.00 comes with delivery at no extra charge.
If you buy footwear from the Zando online shopping website and when it gets delivered you are not completely happy with your order. Or the size is not correct you have the option of returning your goods within 14 days of delivery.
This may also interest you: Milady's Womenswear and Shoes
Finding Boots and Shoes on Sale at Zando
When you visit the homepage at: www.zando.co.za you will see a standard navigation menu towards the top of the page. With links to various categories of Women's, Men's, Kid's, clothing, shoes, accessories etc.
In the menu are two links, one that says "NEW ARRIVALS" and the other says "SALE".
Move your cursor over the Sale link and another menu appears (as indicated in the image). This menu has links on it allowing you further options, firstly you must mouse over WOMEN, MEN or KIDS. Then you can click on the shoes link.
Buying Zando Boots and Shoes
Say for example you mouse over the MENS menu item and then clicked on shoes. This will then open up a product page displaying shoes and boots for men on sale and available currently from Zando.
It's a catalogue style product page displaying photo's of the footwear currently on special along with a short description. As well as the normal price and the reduced sale price. So you can see how much cash you can save on a particular pair of shoes or boots.
You can then sort this product page to filter your search results by price, brand, colour, size, most popular, latest arrivals etc.
Or you can choose from the categories in a menu on the left of the page. For instance, casual shoes, formal shoes, sneakers & canvas, sandals or boots.
Click on any of the sale item images to get an enlarged view. As well as descriptions, details, size guides and more
useful information to help you with your shopping.
Once you've made a selection and added a product to your basket you will be given the choice to continue shopping or go to the checkout area to pay for your items.
In Summary
The process of buying footwear on the Zando site has been made very user friendly so you shouldn't experience any problems or difficulty with your online shopping.
And even if you do, they have a hotline number for customers and clients to use as well as a customer service team available to help via email.
The whole site is a credit to online shopping stores in South Africa.
So if you're looking to buy a new pair of shoes or boots anytime soon. And don't want the hassle of going down to the mall or shops. Then why not check out what footwear specials are for sale on the Zando website at the moment? Your feet will thank you!